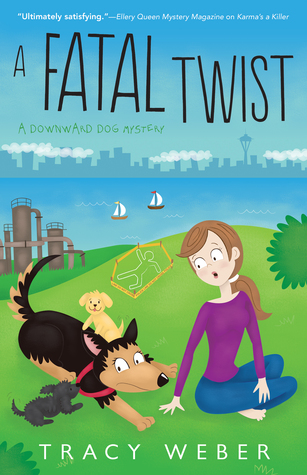 This is one of the best books I have read recently. The Downward Dog mysteries are more developed with each book. There information on the birth of and child and animal care. The information on the different techniques of childbearing is outstanding. Adding a new puppy to you home Mutt and Jeff antics will amuse you.
Kate Davidson is learning to be a Doula to help her friend give birth. Attending, an open house for the new birthing center, she discovers a dead person in the break room. His wife, Rachel is arrested for his murder. Kate saw Rachel leaving the room just before Kate found the victim. Kate feels Rachel is innocent and sets out to find the answer.
Meanwhile, Someone sets a bot outside of the pet store that contains two puppies about seven weeks old. He calls them Mutt and Jeff. The reactions of Bella to the puppies will amuse you and teach what to expect from a puppy. I highly recommend this book and series.
Disclosure: I received a free copy from Midnight Ink through NetGalley for an honest review. I would like to thank them for this opportunity to read and review the book. The opinions expressed are my own.